Tile trends have undergone a remarkable transformation in recent years, reflecting the ever-evolving landscape of interior and exterior design. With advancements in technology and a growing focus on innovation and style, today's tile options offer an impressive array of possibilities to enhance any space. From geometric patterns tile trends to large format tiles, from concrete effects to terrazzo revivals, the latest tile trends captivate with their creativity and versatility.
Whether you're looking to revamp your kitchen backsplash, create an inviting bathroom oasis, or design an outdoor retreat, exploring the current tile trends will inspire you with a myriad of innovative and stylish options. In this blog post, we delve into the fascinating world of tile design, showcasing the most noteworthy trends that are shaping interiors and exteriors today. Join us on this journey as we discover the cutting-edge designs, materials, and applications that are transforming the way we think about tile trends.
1.Geometric Patterns
Geometric pattern tiles have become a prominent trend in contemporary interior and exterior design. These tiles offer a modern and visually captivating aesthetic that adds a unique touch to any space. Geometric patterns can range from intricate and detailed designs to bold and minimalist shapes, providing endless possibilities for creative expression.
Hexagonal tiles, in tile trends have gained significant popularity. Their six-sided shape allows for diverse layout options, including honeycomb arrangements or tessellated patterns. Hexagonal tiles can be combined with different colors or sizes to create striking visual effects, making them ideal for feature walls, backsplashes, and even flooring.
Moroccan-inspired geometric patterns are another popular choice. These tiles draw inspiration from traditional Moroccan motifs and feature intricate geometric shapes and ornate designs. They often showcase vibrant colors and intricate detailing, bringing a sense of cultural richness and exoticism to any space.
One of the advantages of using geometric pattern tiles is their versatility. They can be incorporated into various design styles, from contemporary and minimalist to eclectic and bohemian. They add visual interest, texture, and depth to surfaces, transforming them into focal points within a room.
2. Large Format tile trends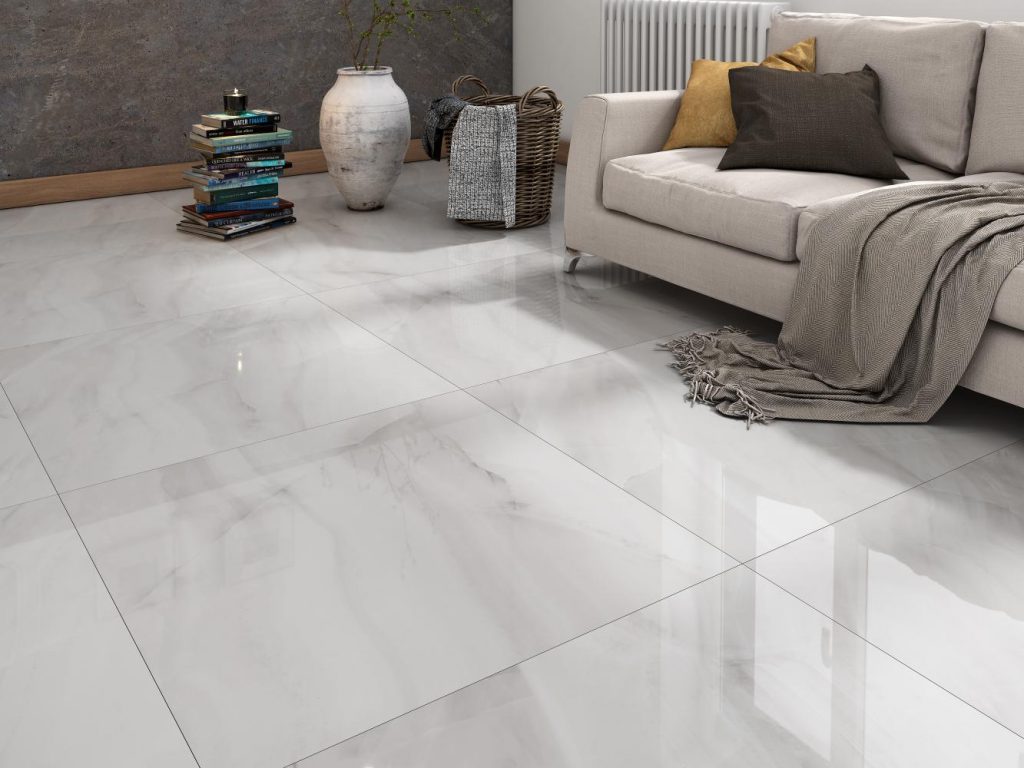 Large format tiles have emerged as a prominent trend in tile design, revolutionizing the way we think about surfaces. These oversized tiles, typically measuring 24×24 inches or even larger, offer a range of benefits and possibilities for both interior and exterior applications.
One of the primary advantages of large format tiles is their ability to create a sense of spaciousness and continuity. With fewer grout lines compared to smaller tiles, large format tiles provide a seamless appearance that can visually expand a room. This effect is particularly desirable in smaller spaces, where the reduction of grout lines can make the area appear more open and less cluttered.
Large format tiles are commonly used in areas such as bathrooms, kitchens, living rooms, and commercial spaces. They can be applied to floors, walls, and even ceilings, creating a cohesive and harmonious design. When properly installed, large format tiles can provide a seamless surface that enhances the overall aesthetic while ensuring durability and longevity.
With their ability to transform a space, create a sense of openness, and offer ease of maintenance, large format tiles have become a sought-after choice in contemporary design. Whether you're aiming to achieve a minimalist and spacious look or create a bold statement with a dramatic tile design, large format tiles provide an impressive and versatile solution for any interior or exterior application.
3. Concrete-Effect Tiles
Concrete effect tiles have gained significant popularity in recent years as a design trend that combines the industrial appeal of concrete with the practical advantages of ceramic or porcelain tiles. These tiles provide a versatile and stylish option for both residential and commercial spaces, offering a range of benefits and aesthetic possibilities.
One of the key attractions of concrete effect tiles in tile trends is their ability to bring the raw and urban aesthetic of concrete into interiors without the need for actual concrete construction.
Concrete effect tiles are not limited to indoor applications; they can also be used to enhance outdoor spaces. Porcelain or ceramic versions of these tiles are specifically designed for exterior use, offering resistance to weather conditions, fading, and moisture. They can be used to create modern outdoor patios, walkways, or even cladding for buildings, providing a cohesive and harmonious transition between indoor and outdoor areas.
4. Terrazzo Revival
The terrazzo revival in tile trends brings forth a wide array of colors, patterns, and finishes that cater to various design preferences. Modern terrazzo tiles capture the essence of the traditional material while incorporating contemporary elements, resulting in a fresh and updated aesthetic.
Terrazzo tiles offer a range of design possibilities. They can be used as a focal point, such as a feature wall or an eye-catching backsplash, adding a touch of artistic flair to a space. They can also be employed as flooring throughout an entire room, creating a cohesive and visually striking environment. Additionally, terrazzo tiles can be combined with other materials, such as wood or metal accents, to create unique and personalized design combination.
5. Subway Tiles with a Twist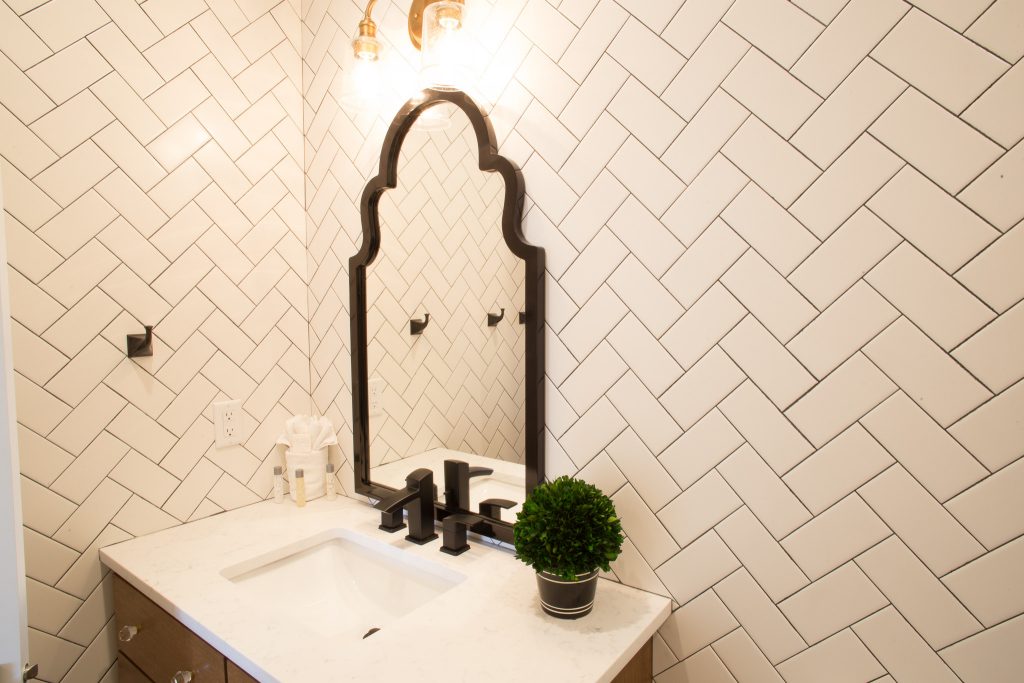 Rather than the classic brick pattern, subway tiles with a twist can be arranged in alternative layouts. For example, you can opt for a herringbone pattern, vertical stack, diagonal orientation, or a chevron arrangement. These unconventional layouts can bring a contemporary or eclectic touch to the design while maintaining the essence of subway tiles.
Classic subway tiles are being reinvented with new shapes, textures, and finishes. For instance, beveled edges, handmade variations, and metallic or glossy finishes can elevate the traditional subway tile look. These updated options are perfect for creating contemporary kitchen backsplashes, shower walls, or accent walls.
6. Wood-Look Tiles
Wood-look tiles, also known as wood-effect or wood-grain tiles, are ceramic or porcelain tiles that mimic the appearance of real wood. These tile trends offer the warmth and natural beauty of wood while providing the durability and low maintenance of tile.
Wood-look tile trends offer design flexibility, allowing you to create various patterns, such as herringbone or chevron, or mix different tile sizes for a unique look. They can also be combined with other tile types, such as stone-look tiles, to create interesting visual contrasts.
Wood-look tiles are commonly used in bathrooms, kitchens, and high-traffic areas where the warmth and beauty of wood are desired.
7. Natural Stone-Inspired Tile Trends
These tiles replicate the look and texture of natural stones like marble, granite, limestone, slate, and travertine while providing the benefits of durability, ease of maintenance, and affordability Advances in tile manufacturing have made it possible to replicate the intricate veining, textures, and color variations found in natural stone. These tiles are used for both interior and exterior applications, including floors, walls, and outdoor patios.
When using natural stone-inspired tiles, it's important to choose high-quality products from reputable manufacturers to ensure the most realistic appearance and long-lasting performance. Consider consulting with a design professional or visiting tile showrooms to explore the available options and find the best natural stone-inspired tiles for your specific project and design vision.
8. Bold Colors and Patterns
Bold colors and patterns tile trends have become increasingly popular as a way to add personality and vibrancy to interior spaces.
Additionally, patterned tiles, whether in floral motifs, intricate mosaics, or artistic designs, are being used to create statement-making installations.
When using bold colors and patterns in tiles, it's important to strike a balance with the overall design and aesthetics of the space. Consider the size of the room, the existing color scheme, and the desired ambiance. You can use bold tiles as an accent or as the main design element, depending on your preferences and the impact you want to achieve. It's always a good idea to consult with a design professional to ensure the final result is cohesive and visually appealing.
9. Outdoor Tiles
Outdoor tiles are specially designed tile trends that are suitable for use in outdoor spaces. These tiles are built to withstand various weather conditions, temperature changes, moisture, and other environmental factors.
The trend of extending indoor spaces to the outdoors has influenced the design of outdoor tiles. Porcelain tiles specifically designed for exterior use offer high durability, slip resistance, and resistance to weathering. These tiles come in various sizes, finishes, and patterns, enabling homeowners to create cohesive outdoor living spaces.
10. 3D Tiles
3D tiles refer to tiles that have three-dimensional patterns or textures on their surface. These tile trends are designed to create depth, visual interest, and a tactile experience. They can be made from various materials, including ceramic, porcelain, glass, natural stone, and even engineered materials.
Three-dimensional tiles provide depth, texture, and visual interest to walls and surfaces. These sculptural tiles come in a range of patterns, from geometric shapes to organic forms, adding a unique touch to interior designs. 3D tiles are commonly used as accent walls, fireplace surrounds, or feature installations.
Note
Remember, tile trends can vary based on personal preferences and regional influences. It's essential to choose designs that complement your overall aesthetic and meet your functional requirements. Consider consulting with a professional designer or visiting tile showrooms to explore a wider range of options and find the perfect tiles for your specific application.
Get quality tiles at Pergas Group. (1) Facebook